Tri S Ranch will be offering Stalls for your horse or horses, beside the New Lake Russell Project in Town of Calhoun Falls. Our stables will be in the center of the new project on highway 81 at the bridge. More Stalls are out at Tri S Ranch on East side of town. More information as it comes.
Contact Us to find out more...Prices are Below Picture.
Trails will be less than 50 feet from Our New Barn in Center of Calhoun Falls..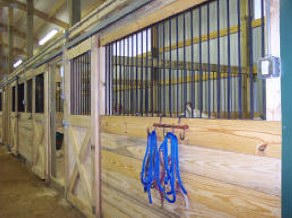 Picture above are what Horse Stalls will look like in new barns. These stalls are also similar to our old Horse Stalls torn down by S.C.H.D.

All Stalls will be New when we get finished.

note: Walls between Stalls will be closed off in Our New Barn.





Prices Per Month Per Horse (when Finished)


Full Board - Out at Ranch $250.00
List not Finished Yet..
Full Board - Up Town Beside Lake Trail $350.00
List not Finished Yet..
Weekend Board - (For Park Campers or Staying Local) $65.00 In Town
Includes Friday Night and Saturday Night and all Trails.
Over- Night On Trail - (with Supper & Breakfeast) $250.00
About a Half Days Ride (Our Horse) going in. Bunk House or Bed Roll Area -Your Choice.