Tri S Ranch's beef is dry aged 14 days & up to 21 days. Then the beef is processed, vacuum sealed, labeled, and frozen.
Our Tri S Ranch Brand is on each sealed retail package.
Case ready for your freezer.
Beef prices below "Includes Normal Processing" to you specifications ( how the meat is cut up )
Our Beef is processed in a South Carolina State Inspected Plant near our ranch.
We process the Beef when with finish weights reach between est. 900+ to 1000+ pounds.
Prices are market driven and can and will change on Un-reserved Beef started for Jan. of 2010
*Approximate amount of edible meat from a *1000 lb. live-weight Beef.
Whole Beef 550 lbs x $2.98 per pound of hanging weight
The actual weight you receive (table ready) will be less than the hanging weight.
Hanging weight is the weight of a side or whole beef before it is trimmed and cut.
click on any picture
Each Side (or 1/2) of a hanging beef will provide
These are just some cuts of beef listed to give Ideas.
" *approximately " :
12-13 pounds of tender Sirloin Steaks
7- 8 pounds of Club Steaks and T-bone Steaks
13-14 pounds of Round Steaks
8-9 pounds of Rib Steaks
4-5 pound of Flank Steaks
(That's nearly 47 pounds of Steaks At only $2.98 per pound !!... Not $10.00 to $14.00 or more like in the stores)
40 pounds of Ground Beef
6-7 pounds of Country-Style Ribs
40 pounds of roasts (chuck, boneless chuck, rib and rump)
4-5 pounds of brisket
6-7 pounds of beef shank
[ *Double the numbers of different cuts for a Whole Beef ]
One common order is to request all the Steaks, and maybe one or two roasts, ribs and the rest as ground beef, as that is most convenient for many families.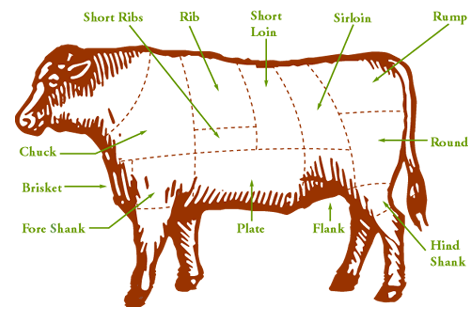 To ensure very tender beef for our steaks, roasts and burgers, we process our Beef at lighter weights.
You can have them cut anyway that you like.
Orders are processed to the customer's specifications.
Because your beef will be processed After you order it, you can request specific cuts. You can also talk to the processor directly if you like to find out what cuts will be best for your family.
1. Beef is sold live on the hoof from the pasture and takes about three weeks After finishing date Listed Above to process the beef..
2. We do not have processed inventory at this time, we are raising them as you read this.
3. Each cubic foot of freezer space can hold about 35 pounds of food, so you would need at least two cubic feet for a quarter beef, 4 cubic feet for a Half beef.
4. If you would like one sooner check with us, there may be one or 2 that can go before March 09...
5. Restaurants that would like to serve a healther choice of beef will like our (before processing or freezing) hanging beef. Just give us a call...we can work that out for you..
______________________________________________________________________________